Next on the feds' menu? Overhauling school lunches.
The Obama administration is trying to improve the nutrition of school lunch menus, and it's putting at least $4.5 billion behind it.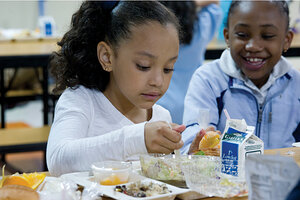 Alfredo Sosa/Staff
What kids eat – especially when they're in school – has never gotten more attention.
The first lady has made improving school lunches a central plank of her campaign to tackle childhood obesity. An ABC hit reality show had celebrity chef Jamie Oliver working with cafeteria workers in Huntington, W.Va., to chuck items like frozen breakfast pizzas from the menu and replace them with healthy, made-from-scratch alternatives.
Even the US military is drawing attention to kids' diets, with a study released in April by an officers' group showing that 27 percent of people aged 17 to 24 are too overweight to join the armed forces.
Now, the Obama administration is trying to make some of the biggest changes to the Child Nutrition Act – which governs the National School Lunch and School Breakfast programs – since it went into effect nearly a half century ago. A bill currently before the Senate would authorize $4.5 billion in new funding over 10 years, and the administration has outlined a proposal for twice that much.
"It's a recognition that we've learned more," says Tom Vilsack, the secretary of Agriculture. "Since most youngsters have the opportunity through the school system to have school breakfast or lunch, it's important to make sure what we provide adds to their nutritional well-being rather than be detrimental to it."
---