Chicago schools face budget cuts. Will teachers' union budge?
Like other school districts nationwide, Chicago is facing budget cuts – meaning layoffs and crowded classrooms. The teachers' union is being asked to make concessions, including their guaranteed annual pay raise.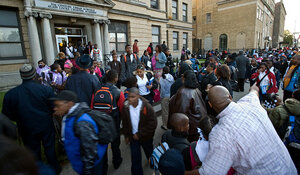 Stephen J. Carrera/Special to the Christian Science Monitor
It's a situation that's been playing out in school districts all across the country: A teachers' unions is pressured to give up promised pay increases, take furlough days, or pay more for benefits in order to help with extreme budget cuts.
The most recent showdown is in Chicago, where the school board on Tuesday unanimously approved drastic measures, including giving the CEO the power to lay off teachers, increase class sizes to 35, and establish an emergency line of credit of up to $800 million.
The hope, say officials, is that thousands of layoffs and crowded classrooms won't be necessary, if the unions will give in on certain concessions, including giving up a 4 percent annual salary increase guaranteed in their contract.
"We remain hopeful that [the union] will share in recognizing the challenges almost every district across the country is facing," Chicago Schools CEO Ron Huberman told the Sun-Times. In his presentation to the board on Tuesday, Mr. Huberman highlighted concessions made by unions in such districts as San Diego and Las Vegas.
---