Cheerleading doesn't count as a real sport, judge rules
Universities cannot use competitive cheerleading in their efforts to achieve gender balance in athletics and comply with Title IX, a judge ruled Wednesday.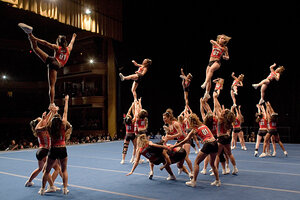 Newscom/file
Cheerleading can be athletic and competitive, but it doesn't count as a sport when universities are counting up male and female athletes to comply with Title IX, a federal gender-equity law.
That was the conclusion in a class action suit on behalf of female athletes at Quinnipiac University in Hamden, Conn.
The school planned to eliminate women's volleyball – as well as men's golf and outdoor track – to save money. But it added a competitive cheer squad and counted its 30 female members to show that the percentage of athletes who are female is in proportion to the percentage of students who are female – one way of complying with the law.
US District Judge Stefan Underhill agreed with the volleyball coach, ruling that the school discriminated "by failing to provide equal athletic participation opportunities for women." Competitive cheerleading "is still too underdeveloped and disorganized to be treated as offering genuine varsity athletic participation," he concluded.
Has Title IX 'outlived its usefulness'?
Title IX advocates count it as another victory for equal opportunity in sports. Each school's efforts to meet Title IX have to be judged individually, but they say this ruling sets an important precedent that will influence universities around the country.
---