Obama refuses to budge on Race to the Top education reforms
Many critics of President Obama's Race to the Top education reforms come from core constituencies of his own party. Mr. Obama took a stand for Race to the Top in a speech Thursday.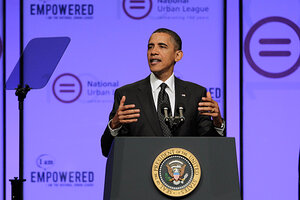 J. Scott Applewhite/AP
President Obama made it clear Thursday morning that he has no intention of backing down from his education reform agenda, despite criticism from core constituencies in his own party.
Speaking before a crowd of civil rights advocates in Washington, he went to bat for his signature education initiative so far, the Race to the Top competition among states for $4.3 billion in grants tied to a range of education reforms.
"I'll continue to fight for Race to the Top with everything I've got," he said at the convention marking the centennial of the National Urban League, a New York based civil rights group devoted to economic empowerment of minorities.
IN PICTURES: Inside President Obama's White House
Noting that concerns have been raised about whether competition for some education funds in the midst of a recession is the right approach to help minority students, Mr. Obama said, "What's not working for black kids and Hispanic kids and native American kids across this country is the status quo."
Race to the Top, Obama added, is "the single most ambitious, meaningful education reform effort we've attempted in this country in generations."
---