Senate approves funding to keep 140,000 teachers' jobs
Senators approved $10 billion in funding Thursday that will keep 140,000 teachers' jobs. The House, which is being called back from August recess by House Speaker Nancy Pelosi, is expected to approve the funding next week.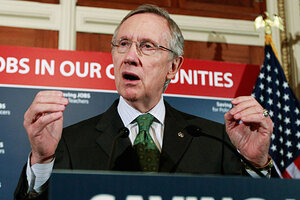 Manuel Balce Ceneta/AP
It's like the ultimate back-to-school gift card: $10 billion for cash-strapped school districts to recall laid-off teachers and keep thousands of K-12 jobs
Supporters of the extra funding say it will keep about 140,000 educators working. The money for teachers, which is part of an aviation safety bill, was approved by the Senate Thursday and will likely pass the House next week when representatives unexpectedly return from August recess.
The infusion of cash could save half the jobs that school districts were expected to have to trim, according to a June survey by the American Association of School Administrators (AASA). Seven out of 10 jobs saved are expected to be teaching positions.
It will be "a welcome infusion of money when people are in pretty desperate financial shape," says Jeff Simering, legislative director for Council of the Great City Schools, a coalition of 66 large urban districts.
Some districts will be able to find out how much money should be coming their way before the school year starts, he says, while others could use the funds to adjust class sizes during the early weeks when enrollment numbers at each school typically become clear.
Along with money for education, the amendment that's attached to the aviation bill would also channel $16 billion to states to help pay for Medicaid, an expense that often prompts budget cuts in other areas.
In the original stimulus package, education received more than $100 billion to be spent by the end of this coming school year.
---
Follow Stories Like This
Get the Monitor stories you care about delivered to your inbox.