Obama aims to lift college graduation rates, but his tools are few
President Obama on Monday stated a US goal of retaking the world lead in college graduation rates by 2020. The US ranks behind 11 countries in the share of young workers with associate's degrees.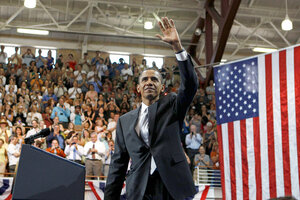 Jim Young/Reuters
When President Obama spoke at the University of Texas, Austin, on Monday, he urged the United States to retake the world lead in college graduation rates by 2020. Mr. Obama highlighted the relationship between education and economic growth in his speech, saying that the future of American prosperity relies on a better-educated workforce.
But there is a key distinction between Obama's lofty goals for America's economy and higher education. With its economic recovery efforts, the Obama administration is trying to reestablish a long tradition of growth in the US economy. With his latest call to raise graduation rates, Obama is trying to kick-start a measurement that has "flat-lined" for decades, as Education Secretary Arne Duncan told reporters Sunday.
The US led the world in college graduation rates before falling off about a decade ago. That is still evident in the education levels of America's oldest working citizens: According to a College Board report, 38.5 percent of Americans age 55 to 64 have at least an associate's degree, ranking fourth in a survey of 36 developed nations.
Countries with the highest college graduation rates
Other countries have now surpassed the US among the newest crop of workers. Among today's American 25- to 34-year olds, slightly more than 40 percent have associate's degrees or higher, a tad higher than for their parents' generation. But that rate places the US only 12th of the 36 countries in the College Board study.
---