Beloit College Mindset List says Class of 2014 can't write cursive
Beloit College Mindset List includes cultural touchstones for incoming college freshman, email is slow, wrist watches are obsolete, phones have always been cordless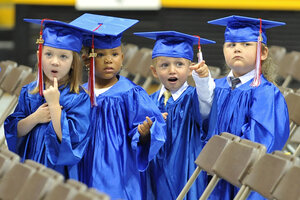 Ryan Moore/Hattiesburg American/AP
If you're a college freshman this fall, the Beloit College Mindset List says you can't write cursive.
That's OK, Billy Madison couldn't either in the 1995 film. He failed to correctly write "buzz" and "Rizzuto" in cursive. Those "z's" will get you!
Oh wait, do you not know who Billy Madison is? Or former Yankees shortstop Phil Rizzuto? That's understandable; you were only three-years-old when that movie came out.
And the Beloit College Mindset List didn't even exist at that point.
Since 1998, Beloit College professors Tom McBride and Ron Nief have released a 75-item list of cultural landmarks that shape the lives and perspectives of students entering this small Wisconsin college. Originally meant to be a reminder to faculty about dated references, the professors' list "became a catalog of the rapidly changing worldview of each generation," Beloit College says.
The class of 2014 considers Nirvana to be classic rock, they have never played with a telephone cord while talking on the phone, and do not find Korean-made cars unusual. They think of Clint Eastwood as a sensitive director and not as Dirty Harry, according to the Beloit list.
---