Test-score 'bomb': How far is too far in teacher accountability push?
The Los Angeles Times is planning to publish a database that shows how much students' test scores have improved under specific area teachers. Some say it's a useful teacher accountability tool. Critics say it's not a fair portrait.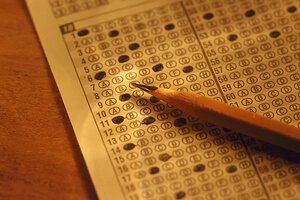 Newscom/File
Should parents – and everyone else – have the right to see just how much kids' test scores have changed under individual teachers?
According to the LA Times, the answer is yes.
An analysis the paper has done of just such data – and its plan to publish a database of more than 6,000 third- through fifth-grade teachers later this month, along with their results – has touched off a large debate around the country. It's the first time such information will be made public for a district.
Already, union leaders have denounced the idea and called for a boycott of the paper, while education officials including Education Secretary Arne Duncan have weighed in to support such transparency. But even some of the biggest advocates of the data – and of using it to evaluate teachers and to make hiring and firing decisions – are critical of the way it's being used here.
"I'm all in favor of using these tools, but I think it's way early in the game to be putting individual teachers' names in the paper with certain scores and suggesting this is a highly informative look at how good a job they're doing," says Frederick Hess, director of education policy studies at the American Enterprise Institute.
---