Which cities are most willing to tackle education reform?
A report released Tuesday ranks cities not in terms of best-performing schools but on their openness to outside ideas and education reform.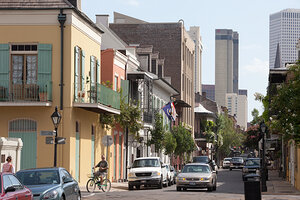 Melanie Stetson Freeman/The Christian Science Monitor
Education entrepreneurs – the sort of people who want to open a new charter school, or have an innovative way to get talented new teachers into schools – would do well to head to New Orleans. Or Washington or New York.
Detroit or Philadelphia? Not so welcoming.
At least that's the judgment of "America's Best (and Worst) Cities for School Reform: Attracting Entrepreneurs and Change Agents," a study released Tuesday that's attempting to rank cities in a new way. It doesn't look at how well their students perform, or even on the programs their districts have put in place, but on how welcoming they are to reforms and new ideas. The education version of the World Bank's annual ranking of the best countries for business, if you will.
"What I'm suggesting is a different way to think about reform than we usually do," says Frederic Hess, director of Education Policy Studies at the American Enterprise Institute and one of the authors of the report for the Thomas B. Fordham Institute.
---