Key to school dropouts: Knock on their door
School officials and volunteers in Houston have been knocking on the doors of students who didn't show up at the beginning of the school year, offering ways for them to get their diploma. As a result, the dropout rate has fallen significantly. This could be a model for other school districts.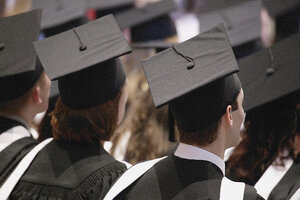 Newscom
As back-to-school season gets into full swing, Houston students who aren't back can expect an early morning knock on the door Saturday.
It might be the mayor, the superintendent, or a group of volunteers showing up at the door, and they'll know exactly which credits a student needs and a variety of options for how to get them.
"For too long a lot of these young people have felt no one cared about them," says Houston Superintendent Terry Grier. "What [the day] symbolizes is that we do care about you and that your high school education is absolutely essential to your future, and to the future of Houston, Texas, and the country."
This is the seventh year the city has held its Grads Within Reach walk to bring back dropouts and help them earn their diploma. Houston and other districts trying something similar around the country are starting to see results.
Last year, after Houston volunteers talked with 744 families, 66 students re-enrolled during the Saturday event. And 400 students graduated this May who otherwise would not have, after participating in the city's online credit-recovery programs known as Grad Labs.
Houston dropout rate drops
The dropout rate dropped from 18.7 percent in 2008 to 15.8 percent in 2009, the first significant decline in years, officials say.
---