College tuition: New law aims for more transparency in costs
Federal law now requires institutions to be more upfront about college tuition and other fees. Will choosing the right school be easier for families?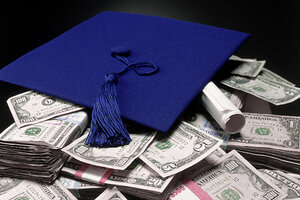 Newscom/File
Can I afford it? That's a big question for students and parents as they contemplate college.
The sticker price – the published rate for tuition and fees – prompts many families to rule out certain colleges or skip college altogether. Others underestimate costs and get into serious debt. For years, many have complained that it's nearly impossible to get a solid cost figure from a school until the bill arrives.
But now it's getting easier to obtain a ballpark "net price" – what students must pay once they receive financial aid.
This past summer, a federal law kicked in requiring colleges not only to be more transparent about their tuition and room and board costs, but also to give reasonable estimates for fees, books, and personal expenses. Stu­dents can find such information for any school on the US De­partment of Edu­cation's College Navi­gator website. Here they can also find basic statistics about each school's financial aid.
Already, some colleges offer net-price calculators (NPCs) on their websites – which the law requires by October 2011. In about 15 minutes, prospective students can plug in a range of financial and academic information and get a customized estimate of what they would have to pay.
A low-income student may discover that she'd be expected to pay only $5,000 a year for a school with a $40,000 sticker price. "That can be a huge wake-up call to families that thought their dream schools would be out of reach," says Sally Rubenstone, a senior adviser at the college planning service company College Confidential.
---