Gates gives $35 million to Obama's community college overhaul
At the first ever White House community college summit Tuesday, President Obama announces new grants to help community colleges prepare Americans for new jobs.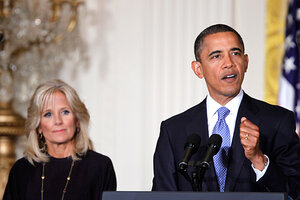 Pablo Martinez Monsivais/AP
President Obama announced the creation of two new competitive grants for community colleges Tuesday – a part of his continuing efforts to reshape community colleges to meet the changing needs of the American economy.
At the first White House Summit on Community Colleges, Mr. Obama said Tuesday that the Bill & Melinda Gates Foundation's $35 million "Completion by Design" program will target schools in nine states over five years. In addition, the annual Aspen Prize for Community College Excellence will award $1 million to exemplary community colleges beginning next fall.
Obama's goal is to graduate an additional 5 million community college students by 2020. According to the Census Bureau, 15.2 million Americans 25 years and older currently have a community college degree.
"In the coming years, jobs requiring at least an associate's degree are going to grow twice as fast as jobs that don't require college," Obama said in his opening remarks at the summit. "We will not fill those jobs – or keep those jobs on our shores – without community colleges."
Community colleges are also an integral part of America's economic recovery, said Jill Biden, wife of Vice President Joe Biden, who hosted the summit.
---