Tuition at public colleges jumps 8 percent, College Board reports
Tuition at four-year public universities rose again this year, outpacing inflation, according to a report released Thursday by The College Board. Federal aid to states and students softens the bite.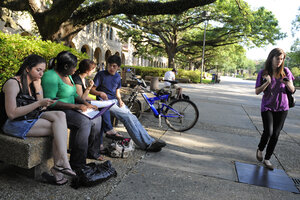 Mary Knox Merrill/The Christian Science Monitor
Tuition at public college and universities continued its steep upward climb this year, rising an average of nearly 8 percent at four-year institutions.
Thanks to federal stimulus funds to the states and a massive influx of federal student aid, students' wallets didn't feel such a huge pinch. But the recession is taking its toll.
It's harder for families to find the means to pay for college, of course. But it's also becoming increasingly difficult in hard-hit states for campuses to shield students from the effects of budget cuts – everything from bigger classes to the elimination of entire academic programs.
Monitor List: Tired of student loans? These schools will leave you with little debt.
"You would like to think that schools were just quickly finding ways to cut costs without affecting educational quality, but that's certainly not the case," says Sandy Baum, an independent analyst for The College Board and co-author of its new report, "Trends in College Pricing 2010."
"We have to figure out a way to educate a lot more students in a cost-effective way without having either the states or the federal government or the families go broke, and that's a long-term project."
Just over one-third of American undergraduates attend public four-year colleges and universities, where published tuition and fees now average about $7,600 for in-state students, up 7.9 percent over last year, according to the annual report. Total costs, including living expenses, run about $16,000, up about 6 percent.
---