Girls and high school sports: complaints tag laggard schools
Twelve school districts, ranging from New York to Houston, are cited in civil rights complaints filed Wednesday. They show gaps in the level of female participation in athletics compared with girls' level of enrollment, says the National Women's Law Center.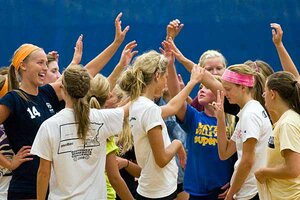 ZUMA Press/Newscom
Concerned about girls getting the short end of the stick in high school athletics? Now there's a hot line to report inequities and seek advice about how to advocate for fair treatment.
The National Women's Law Center (NWLC) launched the hot line – 1-855-HERGAME (437-4263) – and filed civil rights complaints against 12 school districts Wednesday as part of a broader campaign to highlight Title IX, a 1972 federal law that prohibits sex discrimination in public education.
There's a "widespread pattern of schools failing to give girls as many chances as boys to play sports," says Marcia Greenberger, co-president of NWLC, a Washington nonprofit advocacy group. The importance of participation extends beyond the athletic field, she says, because sports contribute to health, self-esteem, and school engagement.
Battles over college sports opportunities have received more attention in recent years, with a judge recently ruling, for instance, that Quinnipiac University in Connecticut could not count its cheerleading squad toward Title IX compliance because cheerleading lacks sufficient competitive opportunity.
---