Record number of Chinese students flock to US colleges
The recession meant fewer Americans went abroad to study last year, and some countries sent fewer students to US colleges. But the number of Chinese students in the US increased by 30 percent.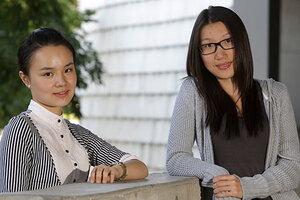 Jay LaPrete/AP/file
The recession is affecting some American and foreign students' plans to study abroad – but not, apparently, those of the Chinese.
Last year, nearly 130,000 Chinese students studied in the US – a record number, and a 30 percent increase from the year before.
That Chinese desire for a US education also helped drive an overall increase in foreign students studying here, resulting in a record high of 690,923, despite declines from many countries, according to the Institute of International Education's (IIE) annual Open Doors report, released Monday.
"There's a growing middle class in China … that wants to find the best education for their children, and they have a lot of resources to pour into their one child," says Peggy Blumenthal, executive vice president of the IIE. In many cases, she adds, multinational corporations in China are finding that the most effective employees are those who got a US education.
---