Teachers' union target Michelle Rhee to raise $1 billion for education reform
Former D.C. schools chancellor Michelle Rhee, famous for battling teachers' unions, creates Students First to forward her education reform priorities.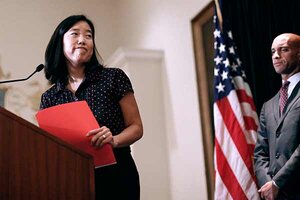 Pablo Martinez Monsivais/AP
Michelle Rhee made a splash Monday with her announcement of a new organization – Students First – to push her education reform priorities.
The advocacy group will be "a new voice to change the balance of power in public education," Ms. Rhee promises in a Newsweek cover story that she wrote, which was kept under wraps until after her appearance on "The Oprah Winfrey Show" Monday morning.
And – as was the case when she was chancellor of Washington, D.C., schools – she promises not to "shy away from conflict."
"When [Rhee] left D.C., she kept saying she recognized that there was a need for a political support and political ground game to support that kind of reform," says Frederick Hess, the American Enterprise Institute's director of education policy studies, referring to controversial changes Rhee enacted in Washington, including closing schools, firing teachers, and changing union contracts. "She very explicitly is setting out to be a political answer to the unions."
Rhee has long been a lightning rod in the education world.
She's lionized by reform advocates who admire her willingness to take on teachers' unions and push ahead on controversial ideas, and was one of the heroes of the recent education documentary "Waiting for 'Superman.'"
---