US students halt academic 'free-fall,' but still lag in global testing
Korean and Finnish students scored highest in the latest round of PISA tests aimed at assessing reading, math, and science literacy.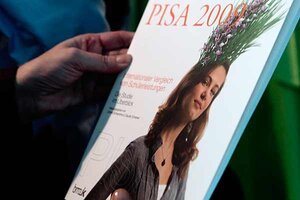 Peter Bader/Reuters
American students made modest gains in science and math, but still lag significantly behind their counterparts around the world.
The latest results from the Programme for International Student Assessment (PISA) released Tuesday by the Organisation for Economic Cooperation and Development (OECD) show Asian students – particularly those from China, who participated in the exam for the first time in 2009 – at the top of the pack, with the United States generally in the middle or, in math, toward the bottom.
"We are in the middle of the pack; that's not where we want to be," said Stuart Kerachsky, deputy commissioner of the National Center for Education Statistics, in a call with reporters. "That's not the goal, but all I see in these numbers is things maybe inching in the right direction."
The test is given to 15-year-old students in dozens of countries around the world every three years, and aims to assess their reading, math, and science literacy as they prepare to enter college or the workforce. It has long been used in the US to raise alarm bells about American students falling behind in a global world.
And indeed, the most striking result from the 2009 PISA may be the top performance of Chinese students, who participated in the exam for the first time with a pilot program that tested students in several cities.
---