Ethnic studies classes illegal in Arizona public schools as of Jan. 1
Much of the controversial Arizona immigration law remains tied up in court, but a law banning ethnic studies in Arizona is set to take effect Saturday. A Tucson school district vows to fight it.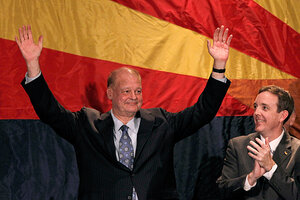 Ross D. Franklin/AP/file
A controversial Arizona law targeting ethnic studies in public schools will take effect come midnight.
Like the state's tough immigration law – which a federal judge put mostly on hold last summer – the new measure that Gov. Jan Brewer signed in May has sparked protests and legal action, as well as concerns about the future of education.
The law bans classes that promote the overthrow of the United States government and resentment toward a race or class of people. Also outlawed are courses designed primarily for students of a particular ethnic group and those that advocate ethnic solidarity rather than treat students as individuals.
In Arizona, critics claim that the law – along with the partially suspended immigration law – threatens to make the state a "new South" of discrimination against minorities. Meanwhile, educators in states such as California worry that the law could become a model for other states to follow.
For his part, Tom Horne, the force behind the Arizona law, says ethnic studies serve to divide rather than unite. "Fundamentally, I think it's wrong to divide students by race," says Mr. Horne, the outgoing Arizona schools superintendent, who was elected state attorney general in November.
---