Washington trims Pell Grants: How will students pay fall tuition?
Washington's new austerity may make it harder for low-income students to afford college. Pell Grants are on the chopping block, losing $5.7 billion under the current House proposal.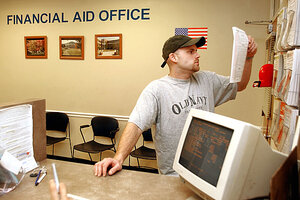 Mark Humphrey / AP / File
As students plan ahead for college next fall, it's hard to know exactly how much aid they'll receive.
The size of Pell Grants for millions of low- to moderate-income college students will be determined by the ongoing budget fight in Washington. The current stopgap resolution expires March 4, and the House passed a proposal Feb. 19 that, among cuts in other areas, would reduce Pell Grants by $5.7 billion for this fall. [Editor's note: The original version of this paragraph and the subhead above said $61 billion, which is the total amount of funding the entire budget bill cut.]
That would cut the average grant by $785, and would bring down the maximum grant by $845 dollars to $4,705.
The Senate hasn't acted yet, and there's talk of a government shutdown if Congress can't cobble together a spending compromise.
But colleges have already started telling students how much aid they'll receive, based on figures published Feb. 1 – as required by law – by the US Department of Education.
"Students and parents are in a very tough position right now. [They're] being asked to make decisions based on financial aid information that might change," says Justin Draeger, president of the National Association of Student Financial Aid Administrators.
---