How can US schools reinvent themselves? Look at TechBoston, Obama says.
President Obama calls for high-tech education solutions while visiting TechBoston, a Boston secondary school lauded for its high graduation rate.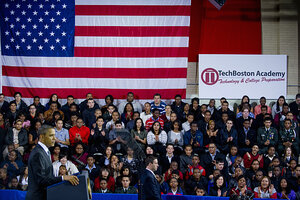 Ann Hermes / The Christian Science Monitor
President Obama highlighted the importance of investing in education today – and of public-private partnerships – in a visit to TechBoston Academy, a 6th-12th grade public school in Boston.
While acknowledging the deficit and the tough fiscal realities, he stressed the success of schools like TechBoston and his desire to make that sort of education more widely available.
"We cannot cut back on the very investments that will help our economy grow and our nation compete and make sure that these young people succeed," Obama said.
TechBoston made sense as a setting to highlight educational innovation and shared responsibility for education.
It's an urban school that has shown marked success, especially when compared with others in the district: 82 percent of its students graduate, 92 percent of its first graduating class in 2006 went to college, and today, 94 percent of TechBoston graduates are in college – the first in their families to attend college, for 85 percent of them.
As its name implies, technology is a centerpiece of the school. TechBoston issues each student a laptop and requires students to take four years of science, four years of math, and four years of technology courses.
---