ROTC returns to Harvard: Does officer training program need Ivy League?
Harvard's ROTC re-embrace may herald a more representative military – if such programs multiply in the Ivy League and beyond.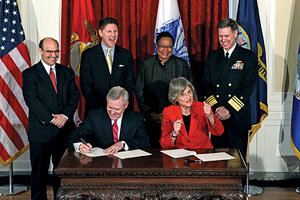 Elise Amendola/AP
When Harvard put out the welcome mat earlier this month to reestablish a Naval Reserve Officers Training Corps, it signaled a thawing of chilly relations between the military and elite universities that date back to the Vietnam War.
In recent years, the key reason for objections to a military presence on campus had been the armed forces' "don't ask, don't tell" policy on gays and lesbians, which Congress repealed in December. Now, several other universities also appear poised to reopen their doors to Reserve Officers Training Corps (ROTC) programs – a military scholarship system with its own set of instructors that prepares students to become officers in various service branches when they graduate.
Such moves resonate symbolically. But it's an open question whether the military and more elite universities will really set up programs that make a practical dent in what is increasingly seen as a problematic civilian-military divide.
"ROTC has shifted to the South and the Midwest ... so as a result, we're getting an officer corps that's less representative of the country as a whole," says Cheryl Miller, who has re­searched ROTC as manager of the Amer­ican Enterprise Institute's Pro­gram on American Citizenship in Wash­ington. Now "you have this really big moment which the military could use or could squander," she says.
---