White House targets sexual assault on campus
The Obama administration announced Monday a new directive outlining schools' responsibilities when students bring complaints of sexual assault or sexual harassment on campus.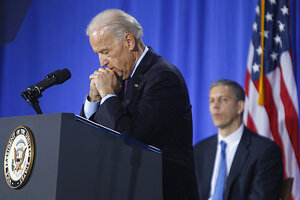 Cheryl Senter / AP
Vice President Joe Biden and the Department of Education are urging America's colleges, universities, and secondary schools to do more to prevent and address sexual assault.
For the first time, the federal government has issued guidance to schools under the umbrella of Title IX – the law normally associated with gender equity in sports – on how to address issues of sexual assault. According to a 2007 survey financed by the Justice Department, 1 in 5 undergraduate women are victims of attempted or actual sexual assault, as 1 in 16 undergraduate men.
"Students across the country deserve the safest possible environment in which to learn," said Vice President Biden in a speech Monday at the University of New Hampshire, where he spoke passionately about the broader problems of violence against women and on-campus violence. "That's why we're taking new steps to help our nation's schools, universities and colleges end the cycle of sexual violence on campus."
---