Educate or incarcerate? NAACP pushes states to shift priorities.
While education spending declined during the recession, most states increased prison spending, according to a new report from the NAACP.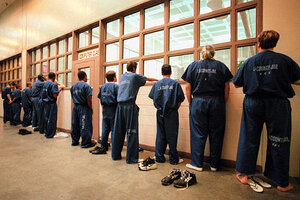 Damian Dovarganes / AP / File
Sixth-graders glimpse a stark choice when they climb aboard a specially-equipped school bus that's touring Mississippi: Stay in school, or you might end up in a jail cell like the one replicated at the back of the bus, complete with sink and toilet.
State lawmakers, too, need to make better choices if they want more kids to end up with diplomas instead of criminal records, the NAACP argues in a report released today.
Over the past two decades, states' spending on prisons grew at six times the rate of spending on higher education, notes the report, "Misplaced Priorities." In 2009, while K-12 and higher education spending declined during the recession, 33 states spent more discretionary dollars on prisons than they had the year before.
RELATED: How to fix America's worst schools
The overall annual price tag for incarceration, youth detention, and parole in the United States: nearly $70 billion – of which $50 billion is spent at the state level.
The current system largely warehouses people who need treatment for drug and mental health problems, while at the same time taking dollars away from education, one of the best ways society can prevent crime, the report says.
"We need to cut bait with failed, so-called 'tough on crime' policies and embrace proven 'smart on crime' policies [by] shifting from incarceration to treatment for the low-level, nonviolent drug offenders that are crowding our prisons," says NAACP President and CEO Benjamin Jealous.
---