Why N.J. teacher-tenure reform plan matters to the rest of America
Gov. Chris Christie's new proposal, unveiled Wednesday, continues the national debate over how to reform teacher tenure. Seven other states have passed or are considering similar legislation.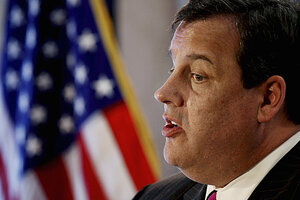 Craig Ruttle / AP
Gov. Chris Christie (R) took another step toward reforming teacher tenure in New Jersey when he unveiled a package of education proposals Wednesday.
Moves to weaken traditional job protections for teachers are gaining momentum around the country. Tenure reform bills were recently signed into law in Florida and Tennessee, and are being considered in Illinois, New Hampshire, Minnesota, and several other states. Delaware and Colorado passed such laws last year.
In Oklahoma, a bill cleared a House committee on April 12 that would broaden the list of reasons teachers can be fired to include dishonesty, insubordination, negligence, and failing to comply with school district policies.
"For too long, we have failed to adequately and honestly judge the performance of New Jersey's teachers based on the only outcome that actually matters – how well our children are learning," Governor Christie said yesterday.
---