150 years later, Civil War still a delicate subject for schools
The American Civil War is a touchy subject for educators, who must help children understand issues that continue to divide Americans 150 years after the war's outset.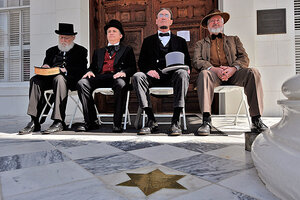 Kevin Glackmeyer/AP/File
You don't have to look far for examples of how the Civil War stirs public debate 150 years after it began.
A private "secession ball" in Charleston, S.C., pegged to the anniversary in February of the state's declared exit from the Union, sparked a protest from the local NAACP chapter. In Virginia, Gov. Robert F. McDonnell, a Republican, got into trouble last year for issuing a proclamation on Confederate History Month without ever mentioning slavery.
Experts say schools can play a powerful role—and hold an important responsibility—in helping young people make sense of a complex conflict whose meaning continues to be hotly disputed in the public sphere. That debate is sure to be amplified, given the prominent attention the war is getting as the sesquicentennial begins this month.
"One hundred and fifty years later, we're still fighting with many of the same questions," said Andrew T. Mink, the director of outreach and education at the Curry School of Education at the University of Virginia, in Charlottesville, who has administered a series of federal Teaching American History grants. "People bring a certain cultural understanding of the Civil War, of the Confederacy, of the Union. ... If teachers don't address that, it gets addressed somewhere else."
---
Follow Stories Like This
Get the Monitor stories you care about delivered to your inbox.