Homeless child enrolled in wrong school: What should happen to him?
Connecticut resident Tanya McDowell is charged with intentionally enrolling her son in the wrong school district. But homeless advocates wonder why the son has now changed schools, since federal law is supposed to protect his 'best educational interest.'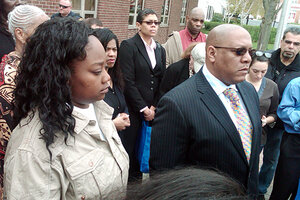 Stephanie Reitz/AP
The case of Tanya McDowell is putting advocates for homeless students on alert.
Ms. McDowell pleaded not guilty in Norwalk Superior Court Wednesday to felony larceny charges for wrongly enrolling her son in kindergarten in a Norwalk, Conn., school. She has said that she splits her time between a Norwalk shelter, her van, and a friend's apartment in Bridgeport. But prosecutors say that she illegally used her baby sitter's address to enroll her son in a better-performing school system than the one he was legally obligated to attend.
The charges carry a potential 20-year prison sentence and up to $15,000 in fines.
For homeless advocates, however, one of the most important issues in the case revolves around the fate of the child, who transferred to a school in nearby Bridgeport in January. Education research has shown that moving homeless students from school to school can be detrimental to their success, and it is still unclear whether McDowell moved her son voluntarily or whether she was forced to.
"Any midyear disruption that can be avoided needs to be avoided.... We need to stabilize kids' education and not have these bureaucratic boundary lines get in the way," says Barbara Duffield, a spokeswoman for the National Association for the Education of Homeless Children and Youth (NAEHCY) in Washington.
---