A third of high school seniors lack basic grasp of civics, US government
America's students are largely uninformed about the democratic process and US government, especially high school seniors, according to civics scores from the Nation's Report Card.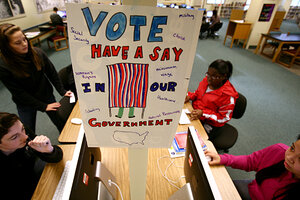 ZUMA Press/Newscom/File
America's students have little knowledge about how the democratic process works – including those on the cusp of voting themselves, according to the most recent results from the Nation's Report Card.
The civics scores released Wednesday by the National Assessment of Educational Progress (NAEP) had a few bright spots – particularly for fourth-graders and for Hispanic students. But overall they indicated relatively poor civics knowledge by students at all levels, and particularly among 12th-graders.
Just 24 percent of high school seniors scored at a proficient level or above, a slight drop from the last civics test in 2006, largely driven by declining scores for 12th-grade girls. Just 4 percent of seniors scored at an advanced level, and 36 percent didn't even reach the most basic level.
Are you smarter than a 12th-grader? A reading comprehension quiz
"Knowledge of our system of government is not handed down through the gene pool," said retired Supreme Court Justice Sandra Day O'Connor, speaking at the report's release. "What these scores tell us is that we're not doing well enough in educating young people about our government and how it works."
The test – a mix of multiple-choice and short-answer responses – addresses civics knowledge, intellectual and participatory skills, and civic dispositions, and covers topics that include the foundations of the US political system, the role of citizens in an American democracy, and the relationship of the US to other nations.
"The NAEP results confirm the fact that attention to civics education in this country has been inadequate for some time," says Charles Quigley, executive director of the Center for Civic Education. "Educational policy is all to often focused on developing the worker at the expense of the citizen."
---