Obama gives nod to Memphis high school, will deliver graduation speech
Booker T. Washington High School beat out more than 450 other schools in a contest to win a graduation speech from President Obama. Here's how the Memphis, Tenn., school set itself apart.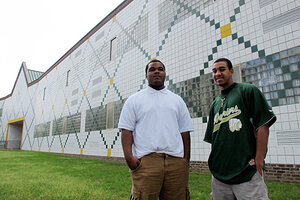 Adrian Sainz/AP/File
Students at Booker T. Washington High School in Memphis, Tenn. – located in one of the poorest Zip codes in the country – will get a commencement address from the president of the United States.
The school beat out more than 450 other high schools that entered the Race to the Top Commencement Challenge, designed to reward schools making extraordinary progress toward preparing students for college or a career.
"I'm so proud of the schools that participated in this year's commencement challenge and I want to thank all of them for their hard work and dedication," President Obama said in a statement released Tuesday. "Booker T. Washington High School proves what can be accomplished when students, teachers, parents and administrators come together to support achievement in the classroom and I'm looking forward to delivering the commencement address at this extraordinary school soon."
The administration had selected the top six finalists – on the basis of essays, statistics, and videos produced by the schools – and the public voted for the final three. Mr. Obama selected the winner and will speak at commencement on May 16.
This is the second year the administration has held the contest. Last year, Obama addressed seniors at Kalamazoo Central High School in Michigan.
The three finalists showcased three very different aspects of education reform that the president has championed.
Bridgeport High School, in a rural district in Washington state, has a mostly Hispanic population and is 80 miles from the nearest community college. Its tiny senior class – just 37 students – are all graduating, and all have been accepted to college. Most are the first in their family to graduate from high school.
---