America's biggest teacher and principal cheating scandal unfolds in Atlanta
At least 178 teachers and principals in Atlanta Public Schools cheated to raise student scores on high-stakes standardized tests, according to a report from the Georgia Bureau of Investigation.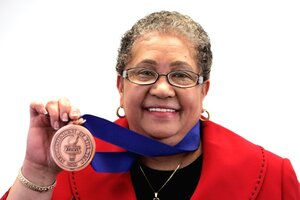 Paul Sakuma / AP / File
Award-winning gains by Atlanta students were based on widespread cheating by 178 named teachers and principals, said Georgia Gov. Nathan Deal on Tuesday. His office released a report from the Georgia Bureau of Investigation that names 178 teachers and principals – 82 of whom confessed – in what's likely the biggest cheating scandal in US history.
This appears to be the largest of dozens of major cheating scandals, unearthed across the country. The allegations point an ongoing problem for US education, which has developed an ever-increasing dependence on standardized tests.
The report on the Atlanta Public Schools, released Tuesday, indicates a "widespread" conspiracy by teachers, principals and administrators to fix answers on the Criterion-Referenced Competency Test (CRCT), punish whistle-blowers, and hide improprieties.
It "confirms our worst fears," says Mayor Kasim Reed. "There is no doubt that systemic cheating occurred on a widespread basis in the school system." The news is "absolutely devastating," said Brenda Muhammad, chairwoman of the Atlanta school board. "It's our children. You just don't cheat children."
---