Which is bigger: California or Los Angeles? Most fourth graders aren't sure.
Geography results from the National Report Card show that few students have a 'proficient' understanding of geography, as reading and math push social sciences out of the classroom.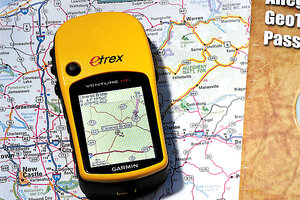 Photo illustration: Christopher Millette / Erie Times-News / AP
Few US students demonstrate mastery of geography, despite some small gains for fourth-graders and some gaps between white and minority students narrowing slightly.
The National Assessment of Education Progress (NAEP), also known as the Nation's Report Card, released its third and final social studies report this year, and the results closely mirror the civics and history results that came out in prior months.
In all three subjects, fourth-graders have made some gains, while scores for older kids have stagnated or even declined slightly. And in all three, only a small minority of students achieved a level deemed "proficient" – and just a miniscule handful qualified as "advanced."
"To the extent … that classroom time becomes an even more precious and scarce commodity, geography, with subjects such as history and the arts, is losing out in the zero-sum game that results from high-stakes testing," said Roger Downs, a geography professor at Pennsylvania State University, in a statement.
The geography test tries to assess students' knowledge not just of places and names, but also the relationships between people and the land.
Just over half of fourth-graders knew that farming – as opposed to fishing, mining, or recreation – is the most common land use in the Midwest, for instance. And just 4 percent of eighth graders were able to explain a graph showing urban and rural population changes over time (26 percent gave a partial response).
---