Relief ahead for states from No Child Left Behind law, but with strings
States can be excused from some certain requirements of No Child Left Behind, the US education reform law, the Obama administration said Monday. But it wants them to adopt different reforms.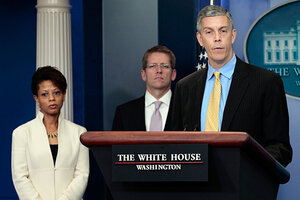 Pablo Martinez Monsivais/AP
States are likely to get relief from some of No Child Left Behind's most onerous requirements this fall, the Obama administration announced Monday.
Education Secretary Arne Duncan said that given Congress's failure to reauthorize the act – which expired more than three years ago – he will grant conditional waivers to states to free them from what many say are unrealistic requirements for student performance.
"We can't afford to have the law of the land have so many perverse incentives, or disincentives, to the kind of progress we want to see," said Secretary Duncan in a press briefing Monday. For states that are willing to align themselves with the Obama administration's priorities – including higher statewide academic standards and targeted plans to address the worst-performing schools – he said that "we want to give them a lot more flexibility."
Under No Child Left Behind (NCLB), states are supposed to be moving toward a goal of proficiency in reading and math by 2014, for the total student body. As more and more schools fail to meet their targets, states and districts find themselves under increasing sanctions and ever more restricted about how they spend federal money – leaving many states clamoring for relief.
In recent months, several states have already asked for waivers, while Montana, Idaho, and South Dakota have simply announced that they plan to ignore parts of the law.
Secretary Duncan, using figures that appear significantly inflated, told Congress back in March that unless the law is fixed some 80 percent of schools might be labeled as failing by this fall.
---