Can the US compete if only 32 percent of its students are proficient in math?
Among the top-scoring places in the world that participated in a recent exam, math proficiency of 15-year-olds was well above 50 percent. One US state, Massachusetts, cleared that mark, barely.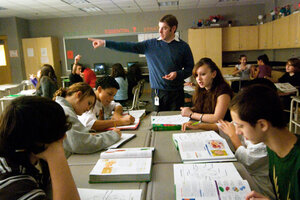 Sarah Beth Glicksteen/The Christian Science Monitor
What do Massachusetts, Switzerland, and Singapore have in common? Their students are among the top performers in the world when it comes to mathematical proficiency.
As for the rest of the United States, the comparison is more bleak, according to a new report: The US ranked 32nd out of 65 countries (or cities such as Shanghai and Hong Kong) that participated in the latest international PISA, an exam administered to representative samples of 15-year-old students by the Organization for Economic Cooperation and Development.
To researchers who authored Wednesday's report – "Globally Challenged: Are U.S. Students Ready to Compete?" – it's yet another cause for alarm about the ability of the United States to compete on the global economic scene.
"This is an urgent problem.... We cannot continue to ignore the mathematical education of the next generation if we expect to be a ... highly productive society," said Paul Peterson, a professor of government at Harvard and co-author of the report, in a live webinar Wednesday morning.
The report draws a link between PISA scores of 10th-graders from 2009 and eighth-grade US math proficiency scores on the 2007 National Assessment of Educational Progress (NAEP), so both samples were drawn from students of the high school graduating class of 2011, in both public and private schools.
Thirty-two percent of students scored "proficient" on NAEP in math. Researchers found the equivalent of what those students would score on the PISA scale and then looked at how many students in other countries performed at or above that level.
---