How does Obama want to reshape preschools? Education Department shows its hand.
The Education Department announced the guidelines for its latest Race to the Top competition, which will target preschools. The rules show what President Obama wants to change.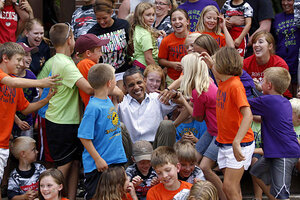 Jason Reed/Reuters
The Department of Education on Tuesday announced the guidelines governing the $500 million in Race to the Top grants that it sees as a tool to reshape preschool education in America.
Last year, the Race to the Top competition awarded some $4 billion for use in K-12 education, and cash-strapped states nationwide undertook new education reforms to try to qualify for the program. The Obama administration has for months signaled its desire to have a similar effect on pre-K education.
Now, with the new guidelines for the competition, called the Early Learning Challenge, it is clear that the administration wants states to develop a public rating and improvement system for early-childhood programs.
Some worry such as step could eventually lead to high-stakes evaluations in preschools. Supporters, however, say that the competition's goal is to encourage states trying to build a coordinated preschool system that, in many cases, barely exists.
"We're in the very nascent stages – just at the beginning of what it means to provide education to children at these ages," says Lisa Guernsey, director of the Early Education Initiative at the New America Foundation. But, she hopes, this challenge "lays out an important vision for quality improvement and coordinating what is right now a really messy non-system."
---
Follow Stories Like This
Get the Monitor stories you care about delivered to your inbox.