Back to school: Are we leaving gifted students behind?
Gifted students in US public schools can be overlooked and unappreciated. Parents, looking for better options, have begun to find some.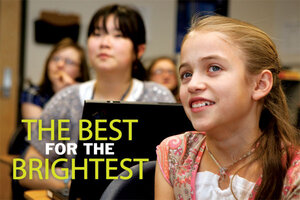 Melanie Stetson Freeman/The Christian Science Monitor
Reno, Nev.; and Hartford, Conn.
Ian McKeachie is a freckled 15-year-old who "drifted along" in elementary school. Not because he didn't love to learn or because it wasn't a good school, but because he mastered new concepts so quickly that the classroom work presented no challenge.
"My teachers would usually use me as a tutor for the other kids," he says, "so I was engaged in school, just not in a way that had me learning."
Ian had hit a sort of "class ceiling" – the limits advanced students often encounter in an education system that groups kids by age and gives teachers little training or time to cater to individual needs.
Then he found a school designed to shatter that ceiling.
His first two weeks in world history class there were devoted to learning how to analyze historical events and the ideas that served as their driving force. They looked at overarching themes in history, not just individual events. Ian had never done such in-depth academic analysis. Before that, he says, "I didn't really know how much faster I could move, how much more I could learn."
The Davidson Academy opened in Ian's hometown of Reno, Nev., in 2006, and Ian entered a year later. All the students are considered "profoundly gifted," at the highest end of the ability range. It's a public school, free to students. But it has a private-school feel because philanthropic funding keeps student-teacher ratios low.
He and his schoolmates are, by definition, exceptional. But how many more American students share their experience of idling in their classrooms, unaware of their potential, or bursting with frustration because only a fraction of their curiosity and capability is tapped?
---