In Tacoma, teachers needed to strike simply to keep the status quo
Teachers nationwide are fighting cuts and unwanted education reforms, but those in Tacoma, Wash., went further and went on strike. With the strike now over, what did that accomplish?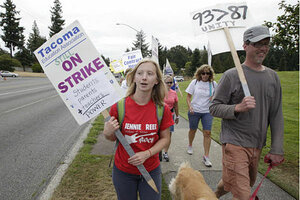 Ted S. Warren/AP
It's back to school time – again – for 28,000 students in Tacoma, Wash., now that striking teachers and district officials have reached agreement on a contract.
Ending the 10-day ordeal took intervention from Gov. Christine Gregoire. After she called union and district representatives to her office in Olympia Wednesday, they negotiated with mediators for hours and made a late-night announcement about the tentative agreement.
The strike garnered national attention as a rare line-in-the-sand moment for teachers during a time of education reforms and massive state budget cuts that have left many teachers and their unions feeling unfairly targeted.
Tacoma teachers gathered today at a local high school gymnasium and voted with nearly 99 percent approval for the three-year contract, much to the relief of parents who had to pay for alternative day care or stay home with their kids themselves.
Schools will reopen Friday morning.
Governor Gregoire commended both sides for working through difficult issues, saying in a news conference that "they've done some things that I think will be the model for school districts around the state."
---