No Child Left Behind: with waivers, Obama offers states flexibility
No Child Left Behind is under fire, with President Obama offering waivers to some states, allowing them to pursue their own plans for school improvements and accountability.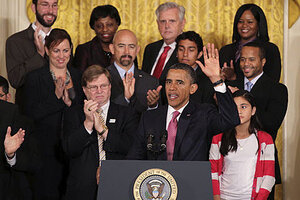 Larry Downing/REUTERS
President Obama today unveiled a sweeping plan to give states the flexibility they have been clamoring for under the federal No Child Left Behind (NCLB) education law.
"The goals behind No Child Left Behind were admirable ... but experience has taught us that in its implementation, [it] had some serious flaws that are hurting our children," the president said in a White House speech, flanked by students, principals, state education leaders, and Secretary of Education Arne Duncan.
Teachers feel pressured to narrow the curriculum and teach to the test, and some states have lowered their standards to avoid penalties under the law, Mr. Obama noted.
"Congress has not been able to fix these flaws so far ... So I will," he said. "If we're serious about building an economy that lasts ... we've got to get serious about education."
Obama touted the plan as a way to unleash energy to improve schools at the local level.
Under the waiver plan, states would be freed from some parts of the law in order to pursue their own plans for school improvements and accountability, if they meet certain requirements of the Department of Education.
States that are granted waivers won't get a reprieve from accountability, he said, but flexibility in exchange for higher standards.
The president's speech comes as the school year gets under way with no good prospects for a full reauthorization of the law, which has been overdue in Congress since 2007.
This summer, some states were even in open revolt when it came to No Child Left Behind's requirements that they raise the percentage of students achieving reading and math proficiency – and devote extra resources to schools that missed the mark.
---