Schools weigh risk, benefit of Facebook
Fears over bullying and improper teacher contact with students are prompting many schools to limit social media sites like Facebook, which critics argue may not be a wise educational move.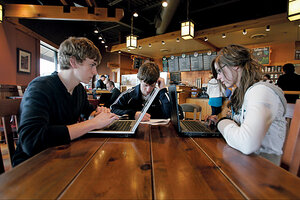 Zuma Press/Newscom/file
For Chuck Collins's advanced placement environmental sciences class, Facebook is a must.
Mr. Collins, who teaches at Missouri's Clayton High School, posts between 10 and 15 articles a week on a page he's set up for the class. Students need to read at least one of the articles and write a thoughtful, substantive response that weaves in class material in the comments section below the post.
"I can do things with [the Facebook page] that I absolutely could not do with more mainstream types of teaching," says Collins.
Not surprisingly, Collins was among the many teachers and students who opposed a recent attempt by the Missouri legislature to ban most interactions between teachers and students over social media forums like Facebook. The Missouri law (blocked by a state court in August) was the most sweeping attempt to try to govern the realm of social media in education, but it's hardly unique.
Increasingly, fears over bullying and improper contact with students are prompting districts and schools to try to regulate the vast world of social media – often, say some educators and technology experts, with too heavy a hand, however well intentioned.
"We need to have some sort of rules and guidelines for how you use social media ... but the goal should be to educate our students on what it means to participate in the world in which they live" rather than simply banning certain sites, says William Stites, technology director at Montclair Kimberley Academy in New Jersey and blogger in chief at edSocialMedia, which explores the role of social media in education. "It's meeting students where they are."
---