Did Berkeley's 'racist' bake sale go too far?
College Republicans at the University of California in Berkeley held a bake sale that priced baked goods at different prices for different ethnicities. Was it effective satire or over the top?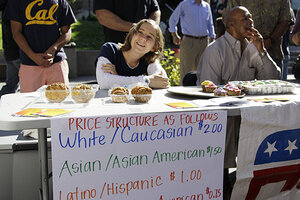 Ben Margot/AP
The bake sale was supposed to be a satire, bringing attention to what organizers feel is a discriminating and racist bill, now on the desk of California Gov. Jerry Brown, that would allow the state's university systems to consider race, ethnicity, and gender in admission decisions.
By the measure of media exposure, the Berkeley College Republicans' event was an unqualified success, making headlines across the country for the peculiar pricing system on its baked goods: $2 for whites, $1.50 for Asians, $1 for Latinos, and so on.
By the measure of satire, many thought a stunt that organizers acknowledged was "inherently racist" went too far, with the Berkeley student association condemning the methodology and school administrators endorsing that position.
By the measure of Berkeley itself, however, it was in many ways business as usual. As the home of the free-speech movement, Berkeley is nothing if not opinionated.
Two hours after the bake sale opened Tuesday, a counterprotest was already in full swing, with black-clad students lying down in the main campus quadrangle. Other groups distributed pink "conscious cupcakes" as a why-can't-we-all-just-hold-hands alternative.
Earlier this month, when Berkeley's "protest season" began, students angered by tuition hikes occupied a campus building, with several protesters throwing rocks, bottles, and chairs at police officers. In March, the same topic led six protesters to chain themselves together and stand on a fourth-story ledge.
---