Anti-bullying scorecard: Trial set in Rutgers case; N.J. law takes effect
Hate-crime trial is Feb. 21 for former Rutgers student Dharun Ravi, in cyberspying case involving a gay roommate. Meanwhile, New Jersey schools work to put in place anti-bullying provisions of tough new law.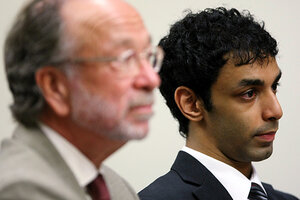 Mark R. Sullivan/AP
Tyler Clementi's former Rutgers University roommate, Dharun Ravi, appeared in a New Jersey court Thursday for another hearing related to charges that he secretly watched and shared scenes of Clementi's intimacy with another man via a webcam.
If the case goes to trial as scheduled on Feb. 21, a jury will decide whether Mr. Ravi committed a hate crime by targeting Clementi because he was gay. Since Clementi's suicide in September 2010, New Jersey has adopted a new antibullying law, which the state's school districts and public universities, such as Rutgers, are in the throes of implementing.
Antibullying activists say New Jersey's law is the most comprehensive in the United States. For instance, the Anti-Bullying Bill of Rights, which went into effect at the start of the school year, is the first such law to require public universities, not just K-12 schools, to distribute antibullying policies to students, according to Garden State Equality, a group that helped draft the law and that focuses on issues of sexual orientation and gender identity.
As school districts begin the task of implementing the law's educational and reporting requirements, some educators worry that it places too many burdens on schools at a time when resources are so tight. Antibullying advocates answer that the bullying and teen-suicide crises justify strong requirements, and they see the law as a model for many other states.
---