Veterans Day: How colleges are easing leap from war zone to classroom
As soldiers back from Afghanistan and Iraq take advantage of the new GI bill, some colleges are more veteran-friendly than others. On Veterans Day, here's a look at efforts to smooth that transition.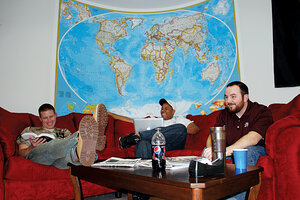 Courtesy of Andre Morrison/E.K.U. Vets
You wouldn't think a lounge with couches, TVs, and computers would be key to a college student's success. But if that lounge is a place where military veterans can connect and help each other out, it could mean the difference between dropping out and graduating.
Craig Jackson serves as a peer mentor in just such a lounge at the University of Maine at Augusta. A 22-year Navy veteran who retired in 2003, he's persuaded student vets with symptoms of post-traumatic stress disorder (PTSD) to seek help at a nearby veterans hospital. He's talked with professors about how students can make up work if they've missed classes because of experiencing flashbacks from fighting in Iraq.
Sometimes it's just a matter of cheering up a fellow vet after a rough time in class: "If a guy says, 'One of the students said something about the war and I didn't like it,' I'll say, 'That's what you fought for. You want to thank them for using that right [to free speech] so that you didn't do it in vain.' That makes them feel better," Mr. Jackson says.
As hundreds of thousands of troops return from Afghanistan and Iraq and take advantage of the education benefits in the Post-9/11 GI Bill, broad efforts are under way to smooth the transition from battlefield to classroom.
A challenging transition
To go from a highly structured, team-focused environment to the individualized experience of academics can be a bit of a shock, veterans say. Or to hear young classmates complaining about a test may be frustrating when you've been tested by life-and-death scenarios in war.
Nearly 500 chapters of Student Veterans of America have sprung up on college campuses since 2008, providing the peer support that veterans' surveys indicate is essential.
In addition to setting up its lounge and peer-mentoring system, the University of Maine has hired a coordinator of veteran services, offers extra counseling, and gives veterans free entrepreneurial classes – all through a $100,000 grant from the Walmart Foundation and the American Council on Education. The grant was one of 20 handed out in 2009 to boost college support for veterans.
---