UC Berkeley's gift to middle-class families: a cap on college costs
UC Berkeley's plan, similar to tuition caps at elite private institutions, is the first such initiative at a public university. It will cap costs at 15 percent of household income for families earning between $80,000 and $140,000.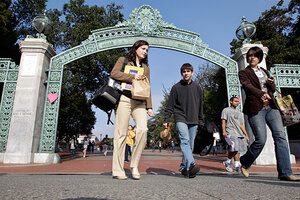 Paul Sakuma/AP
The University of California at Berkeley is sending an early holiday gift to middle-class families struggling to send their offspring to America's top-ranked public institution of higher education.
As of fall 2012, the flagship campus in the UC system will cap the amount that families with annual incomes between $80,000 and $140,000 must pay at 15 percent of household income.
The MCAP (for Middle-Class Access Plan) is the first such initiative at a public university. Several top-tier private schools such as Harvard, Princeton, and Wellesley College have either capped tuition at 10 percent of income for families earning under $200,000 or limited the amount of student debt at graduation to less than $15,000.
Unveiling the plan at a press conference, Berkeley's chancellor, Robert Birgeneau, noted that the move is in recognition of California's high cost of living and the challenges mid-range families face as they price out of aid available to the poorest students, not to mention the significant tuition increases of recent years.
"Berkeley has an outstanding record of providing access through financial aid for students. As a result, our undergraduates leave college with among the lowest levels of student debt in the country," said Mr. Birgeneau. But, he added, while a strong commitment to financial aid has led to both an increasing number of lower-income students on the Berkeley campus and a reduction in their costs, "we see early signs that middle-income families who cannot access existing assistance programs are straining to meet college costs."
As a public institution, he adds, "we feel strongly that we need to sustain and expand access across the socio-economic spectrum."
---
Follow Stories Like This
Get the Monitor stories you care about delivered to your inbox.