School lunches get first overhaul in 15 years – but pizza still a vegetable
School lunches will change in accordance with the USDA's new guidelines. Nutrition experts are pleased, though they argue that Congress interfered unnecessarily.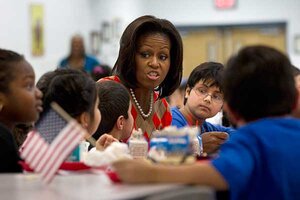 Pablo Martinez Monsivais/AP
School lunches are about to get a major overhaul.
Kids can expect more fruits and vegetables, less fat and salt, and more whole grains than in the past.
The new school-meal standards announced by the US Department of Agriculture Wednesday are the first changes to the standards in more than 15 years, and are a major component of the Healthy Hunger Free Kids Act passed last year.
"They're very good, and they will improve school-lunch programs that affect the diet of over 32 million kids a day," says Margo Wootan, director of nutrition at the Center for Science in the Public Interest. "They're really important given the high rates of obesity, kids' general poor diets, and the state of lunches in most schools."
The new guidelines include rules for the first time around the amount of sodium, trans fat, and whole grains in school meals, and they set new calorie guidelines based on age, in an effort to limit portion size.
Some staples of the lunch line remain in place: Pizza is still a vegetable, as are French fries, and chocolate milk will still be served.
But pizza can no longer be the only "vegetable" on the plate, the crust will be whole grain, and the chocolate milk will be nonfat.
In a sample before/after menu the USDA provided to illustrate the changes, the whole-wheat pizza would now be served with grape tomatoes, baked sweet potato fries, and apple sauce, compared with the pizza, tater tots, and canned pineapple that might have been offered before.
Another new meal might consist of whole wheat spaghetti and meat sauce, a whole wheat roll, broccoli, cauliflower, green beans, kiwi, and low-fat ranch dipping sauce.
---