Miramonte School sex abuse scandal: Was replacing entire staff too extreme? (+video)
Students at the Miramonte School, which was rocked by allegations that two teachers sexually abused children, return to a newly staffed school Thursday. Some parents and education experts say L.A. overreacted.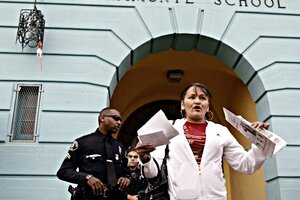 Damian Dovarganes/AP
For children, the notion of going "back to school" after a short hiatus ideally includes the sense of a return to a familiar environment.
But when students at the Miramonte Elementary School in South Los Angeles return to school Thursday after a two-day break, they will be reentering a scandal-rocked institution whose entire staff – from school head down to janitors – has been replaced.
Los Angeles Unified School District (LAUSD) administrators ordered the dramatic move at one of the largest elementary schools in the district – it has more than 1,000 students – in response to an investigation that followed the arrests of two teachers accused of lewd acts against multiple children.
Outraged over the alleged sexual abuse, parents have demanded justice and accountability, and at least three lawsuits reportedly have been filed against the LAUSD, the second largest school district in the nation.
But anger is also brewing against the district's remedy, with some education experts and parents saying that jettisoning everyone is too extreme.
Some 45 newly rehired teachers, drawn from a pool of recently laid-off LAUSD educators, face the unprecedented task of taking over the remainder of the school year with just two days of preparation. The school's outgoing staff, who spent Tuesday and Wednesday briefing their replacements on lesson plans and packing their belongings, are being relocated to a school under construction where they will be interviewed and evaluated.
---