Miramonte sex abuse: Schools facing Catholic Church-like wave of scandal?
The Miramonte School scandal could be a wakeup call about the prevalence of sexual abuse in schools nationwide, experts say – adding that scandals could sweep though education world the way they did though the Catholic Church.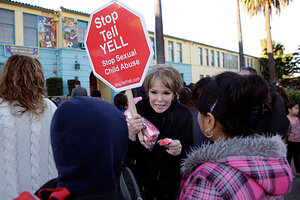 Jae C. Hong/AP
The reopening of an investigation into teacher misconduct at a high school in Hollywood and the initiation of another in Pacoima – both in the Los Angeles Unified School District (LAUSD) – is leading to concerns that the lewd behavior uncovered at Miramonte Elementary School might be more widespread than thought.
Noting that sex-abuse incidents have also recently hit universities, including Penn State and Syracuse, activists and analysts are suggesting that schools could be facing a test similar to the one endured by the Roman Catholic Church, when sexual abuse allegations were no longer able to be swept under the rug.
"There is a lot more of this going on than we have any idea about," says Charol Shakeshaft, a professor in the school of education at Virginia Commonwealth University in Richmond.
She was hired by the US Departments of Education and Justice in 2004 to conduct the only national study of the incidence of teacher sexual misconduct with students. The report found that some 7 percent of the 4,000 sampled schoolchildren had experienced sexually inappropriate behavior by teachers or administrators. That "translates into about 3.5 million children," she points out.
Considering that, on average, only 9 to 11 percent of all sexually abused children actually report the abuse, the number could be much higher, says Professor Shakeshaft.
---