Ohio school shooting: why the gun owner won't be held accountable
Ohio has no laws governing child access to guns on its books and there are not yet signs the shooting in Chardon will force a reassessment of the state's gun laws.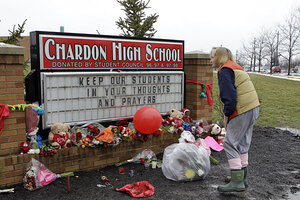 Mark Duncan/AP
While new details emerge about the possible motives in Monday's school shooting in Ohio, another question remains: Will there be legal consequences against the owner of the handgun used to kill three people and injure two others?
As Ohio state law stands today, the answer is likely no.
Officials say T.J. Lane, a 17-year-old high school sophomore, confessed to the killings at Chardon High School, located about 30 miles east of Cleveland. County prosecutors say they plan to try Mr. Lane as an adult, resulting in a possible maximum sentence of life in prison.
The Associated Press reported Wednesday that Lane stole the gun, a Ruger .22-caliber Mark III target pistol, from an uncle who legally purchased the weapon in August 2010 from a gun shop in Mentor, Ohio. Lane's grandparents noticed the gun missing this week from a barn they owned.
It is not yet certain if the handgun was properly stored, had its ammunition removed, or was secured with locks preventing its use — all factors that that gun safety advocates say are critical in preventing gun access by children.
According to a 2000 study by the US Secret Service, 65 percent of school shootings up to that point involved a gun obtained from the juvenile shooter's home or that of a close relative.
---