California colleges consider asking applicants: Are you gay?
The University of California system is considering asking about applicants' sexual orientation. Gay-rights groups applaud the move, but others are worried about student privacy.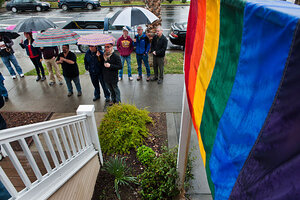 Renee C. Byer/The Sacramento Bee/AP/File
California's college and university system is looking into asking students about their sexual orientation on enrollment forms and applications.
Given the size of California system – which includes 144 campuses under the University of California, California State, and community college umbrella – the idea is being seen as a potential litmus test for whether other states might follow suit.
Gay and lesbian activist groups welcome the idea, particularly because it is being considered in California, where state laws prevent discrimination against gays and lesbians. Gay-rights groups see the idea as part of a broader acceptance of gays and lesbians in society.
But others are dubious of the idea, wondering what the benefit is and whether a breach of school data could compromise students' privacy.
For their part, University of California officials emphasize that this is not yet a law or even a binding rule, but just an idea. They say it is being examined because of a state law passed last fall that calls for schools to mandate rules that suppress bullying and harassment of gay and lesbian students.
"There is no rule, nothing mandatory, and no time frame, this is just being studied," says Dianne Klein, spokeswoman for the University of California.
Still, debate is taking off because of the impetus the University of California's decision could provide for other universities. Elmhurst College in Illinois last fall became the first in the nation to ask school applicants their sexual orientation, the Los Angeles Times reports, adding that a growing number of schools are also studying the possibility.
---