Student loans: Is petition to forgive debt completely a good idea?
Students and parents will think so. But blanket amnesty for all student loans could destroy the student-loan system and might not do much to address the underlying problem.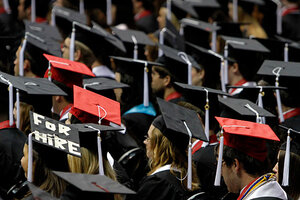 Butch Dill/AP
Large numbers tend to get people's attention, especially the 13-digit kind. So now with news that student college debt is hitting the $1,000,000,000,000 mark, everyone seems to be talking about it.
President Obama wants to delay the interest-rate hike on government-backed student loans scheduled for this July and will say so in his Saturday radio address – and then again when he hits college campuses next week to promote the plan. For their part, Department of Education officials stood up for the plan on Friday. And April 25, the Occupy movement is set to occupy colleges to highlight the issue.
But an online petition that has gathered nearly 700,000 signatures has a better idea – erase the debt completely, says creator Robert Applebaum.
"Forgiving the student loan debt of all Americans will have an immediate stimulative effect on our economy," he says in the petition. "With the stroke of the president's pen, millions of Americans would suddenly have hundreds, or in some cases, thousands of extra dollars in their pockets each and every month to spend on ailing sectors of the economy."
Forgiving student loan debt, he adds, "rather than tax cuts for corporations, millionaires, and billionaires, has a much greater chance of helping to raise [the economic] tide in a much shorter time-frame."
But while the idea has certainly gotten the ear of beleaguered grads – and their families – erasing a trillion dollars of debt by presidential fiat could destroy the future of college loans while doing nothing to address the underlying problem, economists and financial experts say.
---