Spelling bee: Intensity makes it the experience of a lifetime (+quiz)
The buzz of excitement around the National Spelling Bee also captures contestants from past years, who recall the discipline of preparing and the intensity of competition as life lessons.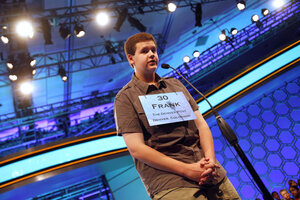 Jacquelyn Martin/AP
Humuhumunukunukuapuaa: Never mind defining it (it's a small Hawaiian fish). How about being able to spell it without looking in a dictionary?
That's the sort of word you'll be finding this week tripping off the tongues of 278 boys and girls gathered at a hotel outside of Washington to compete in the 2012 Scripps National Spelling Bee.
Over two days, the participants, ranging in age from 6 to 15, have been racking their brains for etymology, Latin roots, memory tricks, and grammar-school spelling lessons ("I" before "E" except after "C"?) trying to recall the spelling for words as obscure as "chiaroscurist" (an artist specializing in the interplay of light and dark) or "autochthonous" (indigenous or endemic to a particular region).
A record audience is expected to tune in to ESPN to watch the live broadcast of the final round at 8 p.m. Eastern Time Thursday, including many former contestants who say this is the time of year that gets spelling fanatics excited.
"It's definitely one of the most exciting things I've done with my life, I mean, it sounds silly, it's just a spelling bee, but the intensity, the pressure, and after winning, going on talk shows, it was a surreal experience," says Kerry Close, who, at age 13, spelled "Ursprache" (a language reconstructed from evidence of later languages) correctly to win the 2006 championship.
Unlike some contestants, Ms. Close, now a sophomore at Cornell University and an aspiring journalist in New Jersey, says she put in relatively little preparation for each of the five years she participated: an hour a day and then reading through an entire dictionary the final year in which she won. She says her penchant for spelling hasn't done much for her Scrabble game, but the experience of devoting so much time and concentration as a teenager toward a specific goal was invaluable.
---