Bullied bus monitor: Case of Karen Klein spotlights problem on school buses
Bus drivers and monitors across the country are being better trained on how to deal with bullying, and after the case of bullied bus monitor Karen Klein, school officials may pay them more heed.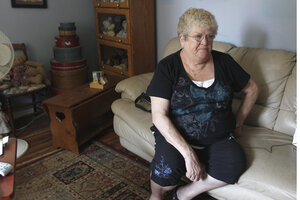 Jamie Germano/AP
The shocking YouTube video of students verbally abusing monitor Karen Klein highlights how difficult it can be to handle bullying in a place where it often happens: the school bus.
The good news is that better training is making its way to thousands of bus drivers and monitors across the country – and school administrators may now be more inclined than ever to take seriously drivers' reports of taunting, sexual harassment, and other forms of bullying against kids and adults.
First Student, a company that transports 6 million students a day, launched a campaign this past school year – "See Something. Do Something." – to train all its drivers and attendants, more than 59,000 people.
The workshops teach bus drivers how to recognize signs of bullying and strategies for responding – once they've stopped the bus in a safe location. They present hypothetical scenarios to help them practice deescalating aggressive behavior.
The training materials are available more broadly and were developed jointly by the US Department of Education's Office of Safe and Drug Free Schools and the National Association for Public Transportation (NAPT).
"The NAPT [is] prepared … to engage at a higher level than ever before in the dialogue about what school districts and communities are doing about bullying prevention, particularly on school buses," said executive director Michael Martin, in a written statement in the wake of the Karen Klein incident.
Thirty-two percent of students ages 12 to 18 who said they were bullied in a 2006-07 survey, and of those, 8 percent said they were bullied on a bus, according to the training materials. Other studies suggest it's even more widespread.
---