40 years later, Title IX is still fighting perception it hurt men's sports
Mention Title IX and most people think of its impact on college athletic programs, primarily, say coaches, because it is blamed for cuts in men's sports. Supporters say that's a bum rap.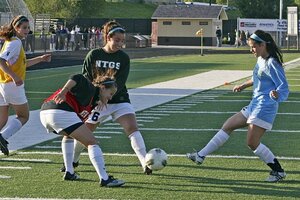 Martha Irvine/AP
Say "Title IX" – the landmark gender equality legislation marking its 40th anniversary June 23 – and most folks these days will respond, "sports."
While this "little statute" – one small provision in an omnibus education bill – actually targets parity across the entire education landscape, for most people it has become inextricably linked with its impact on school athletic programs.
That's largely because, say many coaches and athletic directors who have weathered these years, Title IX has often been blamed for cuts in men's programs. But, supporters say, that is a bum rap.
"There are many myths and preconceptions about Title IX that hinder its effectiveness," says Metropolitan State College's Joan McDermott, in Denver, a rare female athletic director at the higher education level and a veteran of the battles over changes required by the law.
"That's because when a men's sport gets dropped, most people say, it's because of Title IX when that's just not true," she says. "It's because of budget choices by the administration, so that's an ongoing rap that Title IX gets."
The Office for Civil Rights of the US Department of Education has guidelines for compliance with Title IX, the main one of which requires sports participation that is proportional to the gender balance in the school's population. But according to the American Sports Council (ASC) in Washington, a nonprofit coalition of coaches, parents, and athletes, Title IX hurts men's sports, in part due to this requirement.
"When schools have too few female athletes (i.e., the percentage of females enrolled exceed the percentage of athletes), they're presumed noncompliant. They're then forced to create the illusion of substantial proportionality by denying men the opportunity to participate," writes ASC advisory board member Karen Owoc, on the nonprofit's website.
This means, she continues, that many women's teams have not been helped, "but rather, men have been hurt."
---